October 18, 2023, at the Skirball Cultural Center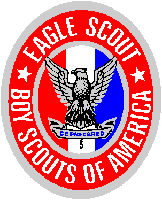 2023 Eagle
Recognition Dinner
Eagle Scouts Recognizing Eagle Scouts
The 2023 Eagle Recognition Dinner will take place on Wednesday, October 18, 2023, at the Skirball Cultural Center located at 2701 North Sepulveda Boulevard, Los Angeles, CA 90049. We will recognize the Eagle Scout Class of '21-23 and honor Rick Breithaupt, Alan Solursh, Alan Rosen, and Marty Kasman with the NOESA Award. Join us for a memorable evening!
We are excited to invite Eagle Scout Alumni to the Eagle Recognition Dinner as event sponsors. Each event sponsor will be seated with Eagle Scout(s) from 2021-2023 as an opportunity to provide college or career advice, discuss similar interests, and create new networking opportunities. If you are interested in becoming an event sponsor, please visit the Sponsor-Alumni Letter below, the Sponsorship Infographic Below, or visit 23Eagle.givesmart.com.
Eagle Project of the Year
Did you earn your Eagle Scout award within the past three years?
Are you proud of your Eagle Scout Service project because of the leadership skills that you showed during the process?
Does your Eagle project stand out as one of the best?
If the answer to these questions is YES, you should submit your project for consideration for the WLACC Eagle Scout Project of the Year.
For consideration, submit an electronic version of your Eagle Scout Project Workbook to Gerry Kasman at

[email protected]

no later than September 18, 2023.
Any WLACC Eagle Scout awarded between 2021 and 2023 may apply. One winner from each year will be awarded a $1,000 college scholarship.
You must preregister to attend.
Registrations must be made online no later than October 1, 2023.