Anna Garfield excels in many areas
Anna is the first Venturing Crew member in the Antelope Valley District, and only the third in the Western Los Angeles County Council, to receive the Summit Award.  Her journey began in 2017, when she joined Crew 145 in Acton, California.  She transferred to Crew 3000 in 2019, becoming a founding member and its first President, receiving her Ranger and Quest Awards in 2020.
While actively participating with the Crew, Anna attended SOAR High School, graduating with her HS diploma, and concurrently, a degree in Liberal Arts & Sciences from Antelope Valley College.  She received a black belt in Tae Kwon Do and a brown belt in Tang Soo Do.  She is certified for Basic Life Support through the American Heart Association and Wilderness First Aid through the American Red Cross.
She enjoys whitewater rafting, running class III & IV rapids, kayaks, and canoes on the Colorado River with her Crew and fellow adVenturers.  She also loves alpine skiing and snowshoeing with the Crew.  This winter she is looking forward to hiking 100-miles through four California missions on the original El Camino Real and a 13-day trek with the Crew at Philmont in 2022.
During her time as a Venturer, Anna is most proud of the emergency relief drive she coordinated for the Trona earthquake victims in 2019.  Conceived, planned, and completed all within a week, it required more than 100 hours.  The drive collected more than 10,000 pounds of water, 4,000 pounds for food and 2,000 pounds of toiletries.  In addition, Anna has volunteered at the Antelope Valley Hospital for two years.
Through the Greater Los Angeles Area Council (GLAAC), she is a High Adventure Adult Leader, completing Wilderness First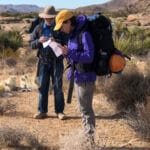 Aid, Adults Leader Backpacking, Orienteering, Desert Camping, Winter Camping, and Trail Boss.  In 2019, she completed National Youth Leadership Training (NYLT) at Camp Josepho.  She is currently a Leave No Trace Trainer as well as a Merit Badge Counselor for: Orienteering, Geocaching, Athletics, Backpacking, Camping, Hiking, Personal Fitness, and Pioneering.
Anna is planning to become certified as a qualified rock-climbing instructor and All-Terrain Vehicle (ATV) certified as her Scouting career is not ending with her Summit Award.  Her leadership and Scouting skills were well utilized during the pandemic, as she stepped up to help
run Pack 3000, Troop 3000G, Troop 3000B and Crew 3000.  Keeping Scouting alive for these units was a task that Anna assisted in by creating, organizing, and running Zoom meetings, holding socially distant meetings (when permitted), and assisting with giving back to the local senior citizens through art.  Art is another passion of Anna's.  She enjoys watercolors and acrylic painting.
Currently, Anna is an Associate Advisor to Crew 3000, an Assistant Scoutmaster to Troop 3000G, an Assistant Dean Leader to Pack 3000, all while working on her education as a Registered Nurse.  She will be graduating in October