Welcome to the Scout Saturday Live! website
and thank you for tuning-in!
Scout Saturday Live! (SSL!)
SSL! premiered Saturday, March 28, 2020 at 10:30 a.m. Pacific, and was FUN for the entire family. Packed with games, projects, science experiments, and prizes, the SSL! livestream broadcast has something for everyone. The program will air the first Saturday of each month and is hosted by Scouts.
Scouts who view and participate in the show's activities have multiple opportunities to check-off requirements toward advancements, awards and merit badges.
Your Scout Saturday Live! Hosts
Taylor Bell
Venture Scout, Crew 197 Nashville, TN
While Taylor wears her Venturing uniform on SSL!, Taylor is also in Scouts BSA Troop 2019 and is deep in her quest to earn 50 merit badges in 50 states, however, her most exciting Scouting experience was at the St. Thomas Sea Base. Her favorite food is conch fritters (perhaps the very best at St. Thomas!) and enjoys US History class in school. Her most memorable Scouting experience was her OA induction when a thunder storm interrupted a night sleeping under the stars!
Nathaniel D. Cox
Eagle Scout, Troop 10 Reseda, CA
Nathaniel enjoys his Math and English classes in high school and someday hopes to publish a story book. Among other things, he likes playing piano, basketball, baseball and parkour, and always likes camping with his Troop. Nathaniel has a pet turtle named Parker. He loves to eat Costco pizza and his Mom's lemon-pepper chicken with Spanish rice. To date, Nathaniel has earned 36 merit badges.
Ji "Swayzee" Dooley
Life Scout, Troop 223 Pacific Palisades, CA
Swayzee is an outgoing Scout who has enjoys his graphic arts classes in school. Aside from Scouting, Swayzee enjoys drawing, writing songs, dancing and playing football. He loves spending time with his family and being a great brother to his older and younger sisters (one of which is also in Scouting). Swayzee will never forget the fun he had on a Scouting high-adventure trip to Idaho with his Troop.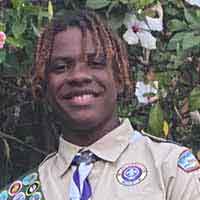 Cameron Irvine
Life Scout, Troop 22 Woodland Hills, CA
Cameron enjoys science, music and entertaining in school. He plays many instruments (too many to name) and is his Troop's Bugler. Cameron has been involved with musical theatre since he was four years old! He has three older sisters (all in Scouting). Cameron's most epic Scouting trip was to Camp Pupukea in Hawaii where he earned merit badges, learned about Hawaiian culture and got to hang-out at the beach!
Miranda Jenne
Life Scout, Troop 10 Reseda, CA
Miranda's favorite class in school is Introduction to Business. She enjoys listening to music and taking care of her pets (1 dog and 1 cat). Miranda has a twin brother who is also in Scouts. She has earned 20 merit badges to date and looks forward to more. Miranda's most memorable Scouting experience was attending Camp Emerald Bay where she stayed for 10-nights and participated in leadership training.
Bailey Vincent
Eagle Scout, Troop 22G in Woodland Hills, CA
Bailey enjoys reading and writing in her school English class. She is an avid Scout who loves camping and trips with her Troop. Bailey's best Scouting experience was when she was a staff member for a National Youth Leadership Training (NYLT) camp. She has two dogs and loves eating hot Cheetos. Bailey's favorite hobby is Scouting, Scouting and more Scouting!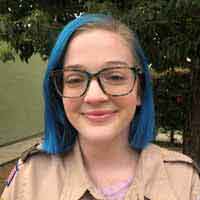 Sam Yamashita
Life Scout, Troop 719 Culver City, CA
Sam's favorite school subjects are mathematics and science, as he can apply those skills into real-live practical applications. His favorite Scouting adventure was a week-long backpacking trip. Sam has one brother and a pet shrimp! He has earned twenty-three merit badges and is on his way to earning many more. Sam enjoys playing different video games, biking and from time to time, drawing.