Welcome
Slide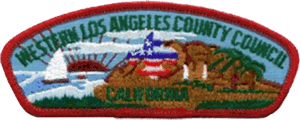 50 Years
To the Western Los Angeles County Council
Come join more than 10,000 Scouts from all across Los Angeles County – giving young men and women access to a range of programs and empowering them to create their own experiences from Cub Scouts to ScoutsBSA to Venturing. We're building leaders and bringing Scouting values to life through weekly meetings, outdoor activities, merit badges, and real-world projects.
My son and another scout from our troop just completed the Nature cluster in week 2 of Tricamp and I wanted to let you know that the program you put together was absolutely fantastic. I don't think that anything can replace the experience of being at an actual camp but I can't imagine anyone doing a better job than you did with this program. The scouts loved being in the virtual world and the merit badge counselors were great. They enjoyed it so much that we signed up for week 3 as well. I wish that more of our troop would have chosen to attend and experience it. Thank you very much for a fun and exciting week. We are looking forward to week 3.
Damon Fletcher
TRICΔMP was Fantastic
Thank you so much!
I also want to say how amazing the merit badge courses through your council have been! My daughter really enjoyed every class she has taken. It really has been a joy to see her grow and learn with the experts that have been teaching her during this difficult time. I appreciate everyone that Has played a role in making this program happen. It has inspired me to help our council build a better virtual merit badge program. You are all doing a wonderfully job, thank you so much!
Shannon – A Scout mother
"Scouting is a blast because when the Scouts go camping, rock climbing or kayaking…I get to go along too. Don't tell the kids but the adults have as much fun doing the activities along with their kids."
Bill – Troop 764
"In a world with everyone on their phones. Scouting provides a unique opportunity for youth to improve their social and leadership skills in an outdoor face to face environment"
Charles
" As a Scout leader it is so fulfilling watching all these young men & women develop into strong leaders"
Eric – Assistant Scoutmaster